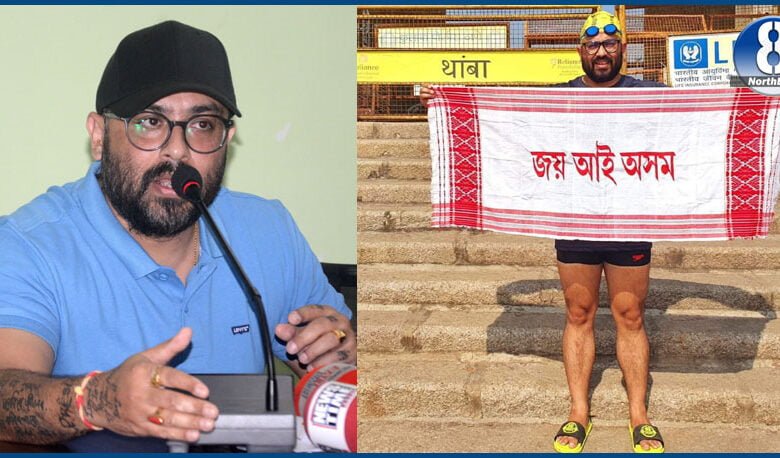 Creating another swimming history, Elvis Ali Hazarika has set another milestone by becoming the first Assamese to successfully cross Dharamtar Jetty to Gateway of India course, Mumbai on Tuesday.
Elvis commenced the swim at 1 AM on Tuesday reaching his destination at 11 AM. The total length of this route on Arabian Sea is about 38 kilometers.
Elvis earlier said that event was part of his preparation for the proposed North Channel Swimming which he will attempt next year.
Mention may be made that Hazarika has clinched as many as 68 national and 6 international gold medals in swimming.
At the age of 9, Elvis represented the nation in the Asia Pacific Swimming Championship in 1991. He also represented India in South Asian Federation Games in 1995 and 1999 and the World Police Games in 2009.
He has also represented the country in the All-India-Pacific National Aquatic Games, Sub-Junior, Junior and Senior Aquatic National Championships and National Games.
Meanwhile, the ace swimmer was also adjudged as the first swimmer from Northeast India who crossed the Catalina Channel in the United States.
About that historic moment, he says, "It was a challenge since we swam with very large fish and couldn't see well at night owing to the lack of light in the water".
"For me and the people of Assam, this is a dream come true," he continued.
Hazarika began his journey in the United States and swam over 80 kilometres in a time of 10 hours and 59 minutes to achieve his destination in Mexico. Hazarika was accompanied on the trek by West Bengal swimmer Rimo Saha, who swam alongside him for over four hours.
Also Read: